Course Information
Course:
MWF 10:30–11:20, Science Center 181
Professor:
Sara Mathieson
Office:
Science Center 260
Office hours:
Monday 3-5pm and Wednesday 1-3pm
Piazza:
CS68 Q&A forum
The prerequisite for this course is CS35. There are no biology prerequisites for this course. The goal of this course is to introduce foundational algorithms that have become essential for learning from biological data. With the genome sequencing revolution of the last 20 years, it has become easier and cheaper to obtain genetic data, but often overwhelming to store, analyze, and make sense of this data. These issues have both driven new algorithm development and repurposed existing algorithms for biology.
We will study both types of algorithms, with a focus on the scientific method. By the end of this course, you should be able to ask a biological question, form a hypothesis about the answer, design a computational experiment to test your hypothesis, implement and execute the experiment, iterate your design and implementation based on the results, and finally interpret the results to form a biologically relevant conclusion. We will focus on synthetic and publicly available datasets, not generating new data.
The language for this course is Python 3.
Textbook: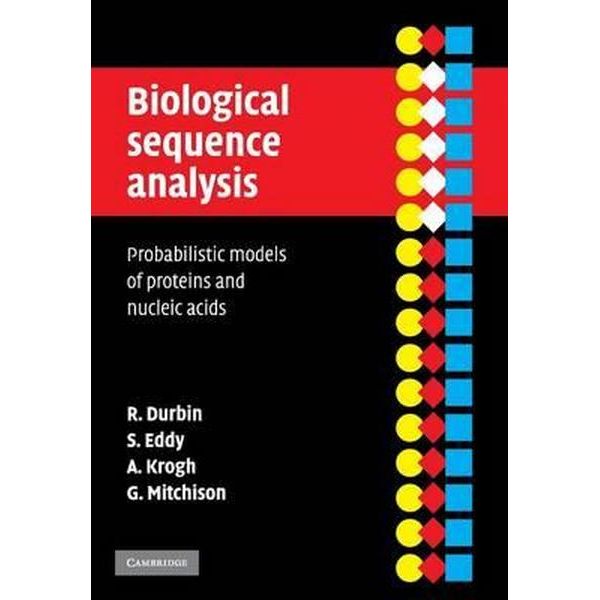 We will primarily be using the book
Biological Sequence Analysis
by Durbin, Eddy, Krogh, and Mitchison.
See the
Schedule
for each week's reading assignment, which will often be supplemented with other material and optional research papers.
Goals for the course:
Understand the goals behind developing and applying bioinformatic algorithms.


Become comfortable working with biological data (changing data formats, dealing with missing data, filtering data, etc).


Given an algorithm presented in class or in the textbook, be able to implement and apply it to a dataset.


Be able to make creative modifications to an algorithm to improve its runtime or make it feasible in a different context.


Be able to interpret the results of an experiment and iterate your pipeline as necessary.


Be able to draw biological conclusions from your results.
Schedule (Tentative)
WEEK
DAY
ANNOUNCEMENTS
TOPIC & READING
LABS
1

Jan 22

Introduction to Bioinformatics and Molecular Biology

Central Dogma of molecular biology
Basics of evolution
History of sequencing
Example applications and goals of computational biology

Reading:

Mon:

Wed:

Fri:

Lab 1: Working with sequences

Jan 24

Jan 26

2

Jan 29

Genome Assembly

Graph algorithms for genome assembly

Reading:

Mon:

Wed:

Fri:

Lab 2: Genome assembly

Jan 31

Feb 02

Drop/add ends

3

Feb 05

Pairwise Sequence Alignment

Dynamic programming
Global pairwise sequence alignment
Local pairwise sequence alignment

Reading:

(required) Durbin: 2.1-2.3
(optional) MUMmer paper
(optional) Durbin: rest of Ch. 2

Mon:

Wed:

Fri:

Lab 3: Pairwise sequence alignment

Feb 07

Feb 09

4

Feb 12

BWT and Read Mapping

Burrows-Wheeler transform
Application to read mapping
Variant calling

Reading:

Mon:

Wed:

Fri:

Lab 4: BWT and read mapping

Feb 14

Feb 16

5

Feb 19

Phylogenetic Trees

Phylogenetic trees
Mutation generates variation
UPGMA

Reading:

(required) Durbin: Chap 7 (p. 161-170)

Mon:

Wed:

Fri:

In-lab practice midterm

Feb 21

Feb 23

6

Feb 26

Phylogenetic Trees

Reading

(required) Durbin: Chap 7 (p. 170-173)

Mon:

Wed:

Fri:

In-lab Midterm 1

Feb 28

Mar 02

7

Mar 05

Ancestral state reconstruction

Fitch's algorithm
Sankoff's algorithm
Perfect phylogeny

Reading

Mon:

Thurs:

Fri:

Lab 5: Phylogenetic Trees

Mar 07

Mar 09

Mar 12

Spring Break

Mar 14

Mar 16

8

Mar 19

Population Genetics

Wright-Fisher model
Measures of sequence diversity
The Coalescent
Tajima's D

Reading

Mon:

Wed:

Fri:

Lab 6: Perfect Phylogeny

Mar 21

Mar 23

9

Mar 26

Hidden Markov Models 1

Markov chains
Conditional probability
Viterbi algorithm

Reading

(required) Durbin: Chap 3 (p. 47-58)

Mon:

Wed:

Fri:

Lab 7: Population Genetics

Mar 28

Mar 30

CR/NC/W Deadline

10

Apr 02

Hidden Markov Models 2

Forward-backward algorithm
EM for HMMs (Baum-Welch algorithm)
Applications of HMMs in biology

Reading

(required) Durbin: Chap 3 (p. 58-73)

Mon:

Wed:

Fri:

Lab 8: Hidden Markov Models
In-lab notes

Apr 04

Apr 06

11

Apr 09

Principal Components Analysis

Human evolution overview
PCA method details
Application of PCA to human data

Reading:

Mon:

Wed:

Fri:

Lab 9: PCA
In-lab notes

Apr 11

Apr 13

12

Apr 16

Midterm Review

Mon:

Wed:

Fri:

Project: Proposal

Apr 18

Apr 20

13

Apr 23

Special topics: GWAS and Deep Learning

Disease association studies
Applications of neural networks in genomics
Inferring evolutionary parameters
Approximate Bayesian Computation (ABC)

Mon:

Wed:

Fri:

In-lab Midterm 2

Apr 25

Apr 27

14

Apr 30

Special topic: Ethics and the Genome

Prenatal genomic testing
Genomic privacy
Genome sequencing companies

Reading:

Mon:

Wed:

Fri:

Project: Presentation

May 02

May 04